The history of kart racing video games is an intriguing tale; it's not a tale filled with ground breaking games that changed the face of kart racing forever, but more riddled with mediocre titles and badly mass produced games.
The quality of the Kart Racer has hardly ever been brought to question, but some titles that have come out over the years have generally never excited people the way a first-person-shooter would.
But Kart racers have just as much, if not more of a competitive nature that requires crazy skills to be able to beat an opponent by mere inches.
It includes the speed of racing with on-the-fly tactics one would expect from an FPS. Race fast, slide past corners, get a turbo charge, collect an item box and launch an attack on unsuspecting rivals while still making sure you hit those sweet spots for the fastest time possible.
Mario Kart has been the top Kart Racer for a really long time.

Being a Mario title, however, it only appeared on Nintendo consoles (naturally). The Mario Kart series has always, like most of Nintendo's titles, followed a similar formula giving us their [approximately] 16 new racetracks, [approximately] 16 classic racetracks, and the usual powerups and unlockable characters of other titles they released recently (eg: Princess Rosalina from Mario Galaxy).

The gameplay hardly needed changing over the years and, like most racing games, only offers more vehicles, characters and maybe some powerups as the series grows.

With DLC like it is nowadays you would expect that these tweaks would be more frequent, with less full releases, but we all know Nintendo aren't fond of the internet, so we shouldn't really expect too much in that department.
Modnation was the Sony Playstation's Mario Kart in every way, except for maybe how the power ups were used, and the fact that it had a super awesome track creator.
It brought a good crazy racing game to the Playstation which, even though it had the likes of that Ben10 racer, or any other title that used kart racers as a quick and easy way to get a game out, it had not seen one since the Playstation 1's Crash Team Racing.
Say what you want about that Jak X. It did not work well as a racer and the series should have stuck to platforming.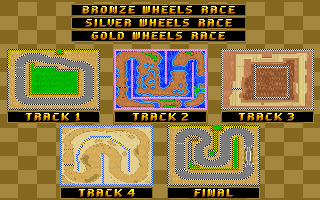 The history of the Kart Racing Videogame goes far, but one of the classics that really focused on being a silly power-up racer was Wacky Wheels.
A 1994 pc game that was as much a Mario Kart clone as could be expected, you could LAN with up to 8 players and it offered a healthy dose of easy to play competition. Collect hedgehogs or bombs to knock out your opponents, take sharp corners and come in first. Fun and easy!
For its time it had great, responsive controls, amazing graphics and a large selection of stages. It was a step in the right direction, bringing that type of racing to PC, but it didn't last, as the PC focused more on shooters and strategy games.
The Kart Racer is a brilliant way to spend an evening and lose some close friends, but if there's one thing I've learned from Kart Racers is that it's rarely fair...
You can be the best racer, remain in first for 2 and a half laps, only to be hit with the (to use Mario kart terms) blue shell (which homes in on the character in first place), a Red shell (which homes into the character ahead of you), a Green Shell (which takes skill to strike) and then to be knocked aside by a bigger racer, only to fall into a pit and then end up in 7th place. If you haven't gotten to that point of frustration where you are threatenening to actually kill your friends (where they start to believe you) then either you are not kart racing right or you're cheating.